Patterson-Schwartz Agent Profile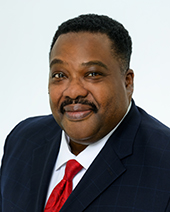 Darnell Roberts

Newark Office
How Can Darnell Help You?

---
About Darnell Roberts
First let me thank you for taking the time to visit my bio page. This means you understand that work history and experience can speak volumes for a person's skillset. When you partner with me, you will feel heard and understood. I will negotiate fiercely for a win-win scenario, juggle deadlines with ease, and keep you moving down the track to your final destination.
Real estate has many parallels with my previous careers in transportation and safety. At General Motors, I developed a strong work ethic, concentrating on safety protocols, and I was entrusted with negotiating responsibilities as a (UAW) union member. These are the same skills I utilized in negotiating your real estate contracts. Later at Amtrak, I oversaw the mechanical and electrical department for the New York North Corridor line. The operation was quite a day-to-day challenge. Working in Penn Station in NYC was like conducting a symphony! This steady diet of pressure honed my ability to handle multiple deadlines and stay on schedule.
Transitioning to the public safety industry at the Port Authority of New York and New Jersey, I supervised a substantial number of professionals involved in the operations of the tunnels, bridges, trains, and airport. I learned to understand the importance of each person's needs while working together to meet our goals and never being too busy to listen. I realized if you are not too busy to listen, people will tell you all you need to know.
You can say that I'm in the business of moving people now, instead of moving cars or trains and I do it all with the utmost care and attention to your needs.
I have always enjoyed a fishing rod or golf club in my hand. Although, it wasn't easy, I managed to find the time to enjoy them and exhale. My relationship with my church and my family connections have kept me humble and grounded.
Real estate is a generation building block and one of the most important investments most people will make in their lives, which is why, "I will always give you, my best." So feel safe as we navigate to your final destination.
What clients are saying