Warming Décor Ideas for Fall and Winter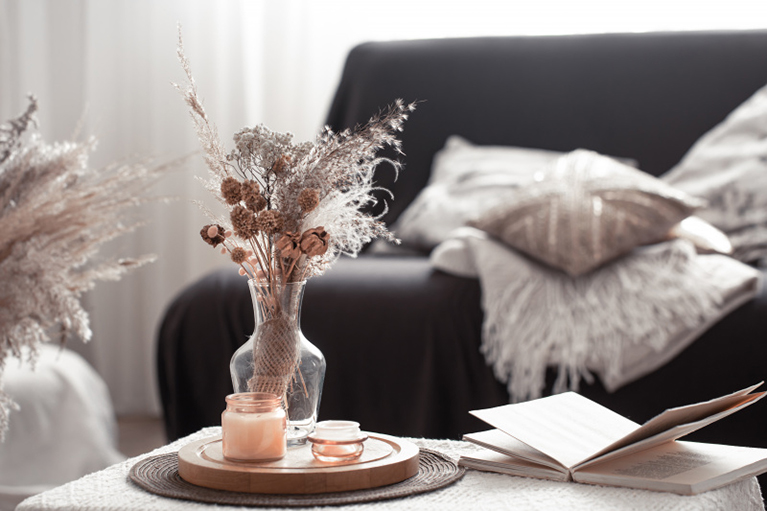 While seasonal decor may be the final cherry on top of a styled home, you don't have to create a magazine-worthy space to enjoy the benefits of weather-appropriate decor. In the fall and winter, great decor can enhance the warmth and welcoming atmosphere. These ideas can help you curate a space perfect for the cold weather.
Opt for Hygge
This Danish tradition may not be as trendy as it was in past years, but there is no doubt that hygge decor is perfect for the cold seasons. Danes combine cozy blankets and rugs, twinkling lights and relaxing with friends and family to create a warming atmosphere. They also use transparent fabrics like chiffons on windows to ensure privacy and encourage natural light.
Go Reversible or Transitional
Fall and winter are host to a plethora of favorite holidays. Don't be afraid to highlight your favorite holiday with transitional or reversible decor. Throw pillows can be an excellent way to feature holiday-specific patterns. When the holiday is over, simply put a new case on the throw pillow to ensure you can use it year-round.
Embrace Anything Plush
From thick shag carpets and faux fur rugs, to plush and fuzzy blankets, embrace your plush options to guarantee that you stay warm from head to toe this year. Keep a basket next to your sitting areas to ensure that a warm blanket is always within reach, without cluttering your couch or chairs.
Choose Rich Colors
A rich and warm color pallet can bring an inviting and intimate quality to your space. Jewel tones like deep purples, rich burgundies and vibrant emeralds can all create a sensation of grounding and comfort. Just be sure to pair the colors with lighter more neutral counterparts to avoid creating too dark of a space.
Use Texture
Luxurious velvets, soft knits and even wispy chiffons all can complement each other to create the perfect cold-weather decor. Curate the perfect warming decor by utilizing a mix-and-match approach to fabrics in your home to ensure that plenty of texture is present.
Curate Intimate Lighting Options
There's nothing cozier than an evening by the fire. If you don't have a fireplace, create that same intimate lighting through candlelight or even strands of yellow or white Christmas lights. Alternatively, go modern and sleek by opting for faux candles. Many electric options look very realistic without the fire risk.
Reprinted with permission from RISMedia. ©2022. All rights reserved.
---
Also in This Issue: