Patterson-Schwartz Agent Profile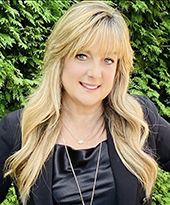 Jenn Palacio

Hockessin Office
How Can Jenn Help You?

---
About Jenn Palacio

"Home Sweet Home" — the place where families grow and cherished memories are made.
As a dedicated real estate agent with a passion for helping clients find their perfect home, I understand the importance of creating a nurturing environment where dreams flourish. With over 15 years of experience as a paralegal specializing in real estate law, including foreclosures and business transactions, I bring a wealth of knowledge and expertise to the table. As a former paralegal, I have developed strong communication and negotiation skills through daily interactions with attorneys and banks in the real estate industry to get the best possible results for our clients. I can provide the same for you!
I am known for my professionalism, unwavering energy, and relentless motivation to go above and beyond for my clients. I provide my clients with concierge-level service by staging their homes, catering their open houses, helping with their marketing strategies, assisting with hiring moving companies, and packing, if necessary. It is my pleasure to walk clients through the entire process whether they are selling or buying their home. Count on me to guide you through this dynamic housing market as I am determined to help you achieve your highest goals.
Beyond my real estate endeavors, being active is important to me: actively involved in our local community and physically active! I stay active in our local community with fundraising events for various organizations such as Susan G. Komen, giving back to our military by participating in Stockings for Soldiers every holiday season, and dropping off meals to Emmanuel Dining Room for the homeless in Wilmington, DE. Additionally, I indulge in activities that keep me physically active and mentally balanced. Whether it's running, hiking, or teaching invigorating group fitness classes at the University of Delaware and City of Newark, DE, I believe in nurturing a well-rounded lifestyle.
My purpose is to be your trusted guide throughout your real estate journey. I am wholeheartedly dedicated to helping you find your dream home and ensuring a smooth and successful transaction. Taking that crucial first step is essential, so please don't hesitate to call me!
"Remember, your positive action combined with positive thinking results in success." Together, let's make your real estate dreams a reality.
What clients are saying